The KU School of Music MSP Scholars Program is a unique opportunity for undergraduate music majors from historically underrepresented backgrounds, including students of color, first-generation college students, and students with high financial need. MSP Scholars in the School of Music receive a renewable scholarship, faculty mentorship, academic support, and a welcoming community. The KU School of Music is dedicated to nurturing and advancing the art of music through excellence in teaching, mentorship, creative endeavors, and research. MSP for undergraduate students is an important step in achieving this mission.
Music Services & Requirements
Students receive an annual scholarship of $2,000 minimally. There are opportunities for additional funding for study abroad and experiential learning.
One-on-one meetings with program director. These meetings are a time to focus on:
Academic feedback and planning
Academic advising
Time and crisis management
Financial aid, internship, and job opportunities
Career exploration
The main focus of the MSP is on academics, yet the program also includes activities throughout each semester to support students academically and socially. Events include:
Networking with students, family, faculty, and business representatives

Connecting with various campus partners to better understand available resources

Engaged learning opportunities including service learning and leadership development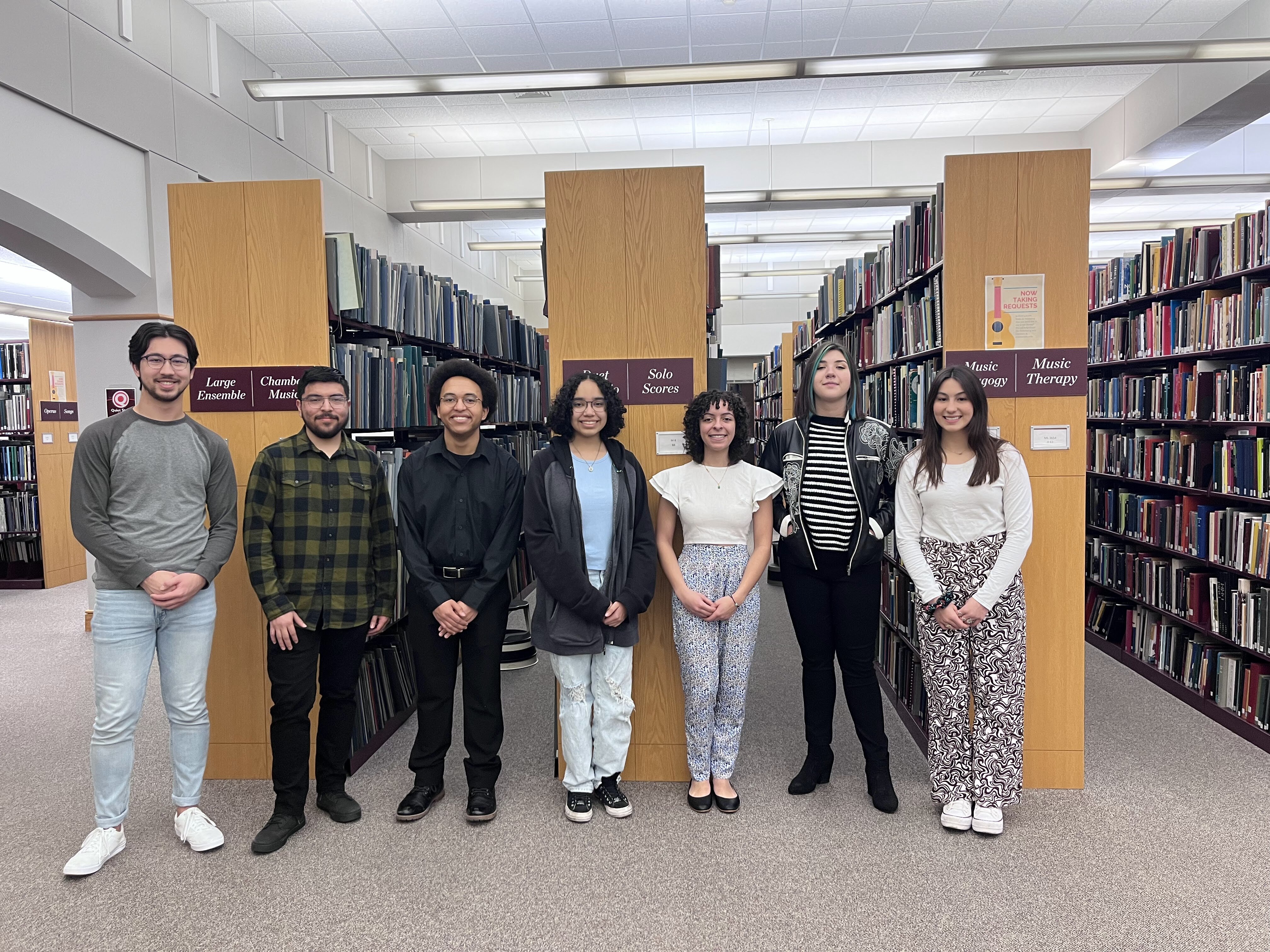 Meet our School of Music MSP Scholars
Our scholars, from left to right, Logan Bach, Oscar Haro, Mack McLaughlin, Amaya Reyes, Chloe Peña García, Evelyn Gurske, and Mia Falcon. Not pictured is Gabriel Reed.
Logan Bach
Logan Bach is a freshman bassoon performance major. He plays in the Wind Ensemble, Symphony Orchestra, and chamber ensembles. Along with classical performance, Logan enjoys playing the alto saxophone in the Jazz II ensemble. His future career goals as a musician are to serve as the principal bassoonist in an orchestra and become a pedagogue of bassoon at a university or conservatory. Outside of performing, he arranges different genres of music for bassoon ensemble or wind quintet. When not in Murphy Hall, he loves tennis matches, video games, or finding a new spot to eat with friends.
Oscar Haro
Oscar Haro is a Music Education Major from Lawrence, Kansas. He is a trumpet major at the University of Kansas. He has performed in various ensembles during his time at KU, including Symphonic Band, Wind Ensemble, Symphony Orchestra, Jazz Band, Jazz Combo, the Marching Band, Volleyball Band, and Men's Travel Basketball Band. Future goals include becoming a professional trumpet player in an orchestra or becoming a university trumpet professor. Oscar enjoys performing anywhere he can and teaching his own studio of trumpet students. Outside of music, he enjoys traveling, running marathons, or hiking long trails in nature. A current life goal of his is visiting all major orchestras and meeting all kinds of famous musicians. 
Mack McLaughlin
Mack McLaughlin is a music composition major in their first year at the University of Kansas. They are a member of the KU West African Drumming Ensemble and member of the New Music Guild at KU. Outside of music, Mack McLaughlin enjoys spending time with loved ones, playing video games, and stargazing. After university, Mack's goal is to be a composer for films and video games.
Amaya Reyes
Amaya Reyes is a first-year viola performance major. They play viola in the KU symphony orchestra.
Chloe Peña García
Chloe Peña García is a transfer student from Puerto Rico and is currently a sophomore Music Therapy student. Her main instrument is the violin which she has been playing for 10 years. Chloe started a degree in violin performance at the Conservatory of Music of Puerto Rico, but her true passion was to be able to help other through what she loves and decided to pursue a degree in Music Therapy at the University of Kansas. She enjoys baking, going to the beach, spending time with family and friends and being in nature. Chloe hopes to one day be a certified music therapist and have the ability to make a difference in people's lives.
Evelyn Gurske
Evelyn Gurske is a first-year music-education major. She plays double bass in the KU Symphony Orchestra. While being involved in many musical endeavors she is also a digital artist, with her art focusing on her indigenous culture. Upon graduation, Evelyn hopes to be a high school orchestra teacher and perform in community orchestras. 
Mia Falcon
Mia Falcon is a Music Therapy Major from Kansas City, Kansas. She is currently the principal oboist of the KU Symphonic Band and has also played in the KU Symphony Orchestra. Mia loves traveling, spending time with friends and being in nature. After graduation, she hopes to combine her passion of music with social justice and work with inmates in prison settings. If all goes as planned, she also hopes to work with those in mental health facilities. She is proud to celebrate her culture in all that she does!
Gabriel Reed (not pictured)
Gabriel Reed is a Music and Economics major from Kansas City, Missouri. He is a trumpet player, and a sophomore. During the 2022-23 academic year, Gabriel studied abroad at the University of Costa Rica. At KU, he has played with the Symphonic Band, Jazz III, University Orchestra and Trumpet Ensemble. Gabriel's future goals are to continue playing trumpet and become a Financial Analyst. Outside of music, Gabriel enjoys exercising, traveling, and reading.