Margaret Marco
---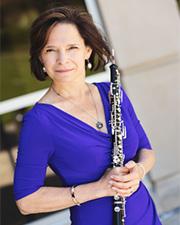 MSP Director, School of Music
Professor, School of Music
Biography
—
D.M.A. University of Illinois; M.M.E. The University of Iowa; B.M. Northwestern University
The Kansas City Star describes Margaret Marco's oboe playing as "wistful and utterly engaging," while the Dubuque Telegraph Herald reports "Marco's deft and lilting expression …was often reminiscent of a soprano's operatic aria."
Dr. Marco is Professor of Oboe at the University of Kansas School of Music and principal oboist of the Kansas City Chamber Orchestra. She began her professional career as the principal oboist of the Orquesta Sinfónica de Maracaibo in Venezuela. Since then, her many solo, chamber and orchestral performances have taken her to a variety of prestigious international venues in locations such as Japan, Costa Rica, England, Canada, the Czech Republic, Spain, Italy and China where she performed and presented master classes at the distinguished Central Conservatory and China Conservatory in Beijing. Other festivals and concert appearances include the Festival of New American Music in Sacramento, California; the Conservatorio de Música in Puerto Rico; New Frontiers Music Festival in Laramie, Wyoming; the Sunflower Music Festival in Topeka, KS; Encuentro de Oboes y Fagotes, in Costa Rica and many International Double Reed Society (IDRS) Conferences. She served as Chair of the prestigious IDRS Fernand Gillet-Hugo Fox Oboe Competition from 2009-2017 and holds degrees from Northwestern University, The University of Iowa and the University of Illinois in Champaign-Urbana.
A strong advocate for new music for her instrument, Dr. Marco has received grants from the National Endowment for the Arts, the Mid-America Arts Alliance, Mu Phi Epsilon and the University of Kansas to perform and record new chamber works by American composers. She can be heard with the KU Wind Ensemble performing Copland's Quiet City on the NAXOS label and on NAVONA Records performing Gorgeous Nothings by Ingrid Stölzel and Bells and Grass by Juliana Hall. Other recordings include her solo CD, Hidden Gems: Oboe Sonatas of the French Baroque, ​Still LIfe: New Music for Oboe, Oboe d'amore and English horn, Allégresse; music for flute, oboe and piano and Fresh Ink. She is heard frequently performing on Kansas Public Radio. In 2016 she commissioned the A Siege Of Herons, a concerto for oboe d'amore and strings by Forrest Pierce, which she premiered with the Kansas City Chamber Orchestra. Dr. Marco is a F. Loreé Oboe Artist.
Dr. Marco is very grateful for the instruction and mentoring she received from her amazing oboe teachers Ray Still, Grover Schiltz, Dan Stolper, Mark Weiger, Dean Sayles and Nancy Ambrose King.