Steven Johnson, Jr.
---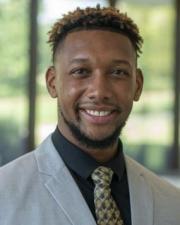 MSP Director, School of Business
Assistant Dean for Diversity, Equity, Inclusion and Belonging, School of Business
He/Him/His
Contact Info
Capitol Federal Hall, 1030D
Lawrence

---
Biography
—
Steven Johnson Jr. serves as the assistant dean of diversity, equity, inclusion and belonging (DEIB) in the School of Business. He earned his bachelor's degree in industrial and manufacturing systems engineering from Iowa State University, and later earned his master's degree in student affairs administration from Michigan State University. As a student at Iowa State University, Johnson involved himself in the National Society of Black Engineers where he oversaw recruitment of new members as the vice president and also served as an ambassador for the university as an undergraduate staff member in the office of New Student Programs. During his time at Michigan State, he advanced his passion for working with student success programs through his involvement as an advisor of Black Caucus, strategic partnerships with neighborhood student services staff, and work as a consultant with the university writing center.
Prior to his current role, he served as a complex director with KU Student Housing where he most recently oversaw the residential operation of the scholarship halls community. During his time as complex director, he was able to advise student groups, support academic success initiatives, and coach students to adopt positive academic habits. He involved himself in regional and national associations, serving in the Pan African Network of the American College Personnel Association (ACPA) as chair of membership and in the Upper Midwest Region – Association of College and University Housing Officers (UMR-ACUHO) as a member of the Social Justice Committee. In these appointments, he has taken advantage of opportunities to facilitate targeted social justice educational programs and initiatives. Johnson has also presented at regional and national conferences on issues that affect individuals from marginalized populations.
Education
—
M.A. in Student Affairs Administration, Michigan State University, 2015
B.A. in Industrial and Manufacturing Systems Engineering, Iowa State University, 2013